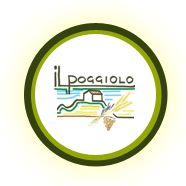 TEL.: 051 6510208
CELL.: 339 8589513
Aperti su prenotazione
per matrimoni, cerimonie, gruppi e riunioni
+INFO:
info@agriturilpoggiolo.it
Il Poggiolo – Farmhouse in Bologna – presentation
Il Poggiolo – Farmhouse in Bologna
The Poggiolo farmhouse is pleased to welcome you: we offer a new dynamic concept of
rural tourism that meets the typical italian tradition to satisfy our foreign friend's
demands. Six accommodations: all the rooms have been rebuilt in 2005 and have a private
entrance, bathroom with shower, TV, air-conditioning, safe deposit box, hairdryer, terrace
with panoramic view.
Our dining hall covered with wooden beams reminds you of ancient rural environments
which makes your lunch/dinner in front of the beautiful view of the hills from Bologna to
Florence even more tasty and relaxing. Our Chef proposes all the well known classic
recipes from Bologna including pasta made with rolling pin in the traditional way, dishes
made from organic vegetables and cereals that grow at our farm according to the season,
wooden boards with a selection of delicious charcuterie and cheeses from nearby farms,
served together with different kinds of skilfully baked bread made from flour grinded in
our own mill. We put importance on gluten-free meals according with Italian Celiac
Disease Association.
Last but not least you can taste high quality pastry and cakes, prepared also on demand,
served with an excellent passito wine.
We also organise courses of pasta & bread baking, traditional italian cooking and wine
tastings, with the the aim of giving some basic notion how to taste wines properly.
Moreover , we offer archery, guided visits with herbal practitioner to the organic
"officinale" garden - discovery the properties and use of lavendar, thyme, sage and
rosemary.
The trip continues inside "the goblin's wood" where we can find old tall oaks and wild
growing plants and we talk about their properties and it customs related to them.
Other activities are:
_Producing essential oils.
_Distillation of cultivated plants. In order to obtain essential oil, recognition of the
different extracts impregnated on wadding.
_Creation of herbal infusions and decoctions.
_Cosmetics from levander.
_Guided visits upon booking to Ducati and Ferrari museums, to Bologna downtown, to
Balsamic vinegar and Parmigiano Reggiano factory. ACTIVITIES
BREAD-BAKING COURSE
Il Poggiolo is part of the association "the road of bread", so you won't miss our special
bread types with herbs, prepared with grain or spelt flour grinded at the moment in our
little mill. The participants, adults and children, will enjoy preparing their own various
breads, pizzas, piadina, bread sticks and after having baked them in the oven, they can eat
them with our delicacies and fresh cheeses at lunch.
Afternoon: confectionery with traditional pastries and mother creams.
WINES AND TYPICAL FOOD
Tasting dinner "il vino indirizza l'arte del fornello".
Four great wines combined with four Bologn dishes. Together with our sommelier from
AIS (Italian Sommelier Association) we will examine them and with the help of an
organoleptic evaluation (visual examination – olfactory examination – gustatory
examination) their characteristics will be determined.
FRESH PASTA COURSE
The great Italian art – A full day into the World of Pasta
We begin with the real Ragù Bolognese and then we continue with other importants Italian
sauces. When the sauces are ready, the guests produce pasta with the rolling pin in the
traditional way.
We teach how to make:
-Guitar Spaghetti; Tagliatelle; Tortelloni; Lasagne; Strozzapreti; Cortecce(without egg).
FRESH CHEESE COURSE
Intensive course to do on your own fresh cheese like ricotta, primosale,
squacquerone – home based activity.
Raw milk preparation (pasteurization, addition enzymes, addition mildews), milk
coagulate, curd break, curd cooking and extraction (buttermilk), shape spinning,
squashing, stewing, salting.
The cheese can be eaten after 24/48 hours and can be conserve to ripening for a week.
FROM THE MARKET TO THE PLATE
From the morning we'll learn how to choose the food and what kind of food to buy in the
markets in Bologna and surroundings area. Then we'll be back in the Farmhouse and learn
how to cook it with our Chef. A great experience for people who is really curious to know
tricks and how to make a special meal for a dinner with friends.
CONTACT WITH NATURE
We provide guided visits with herbal practitioner to the organic officinal garden.
With the help of naturopaths we will also discover the flowertherapy of e.bach at "il
poggiolo" 17 of 38 remedies grow wild). We teach how to prepare the flowers that can treat
the soul.
Special herb menu for great lunch.
We rent mountain bikes and organize courses/races.GUIDED TOURS
The project is intended to provide a support to groups who wish to know more about the
archaeological (and historical) area called Regio VIII, the today-called Emilia-Romagna.
We propose conferences related to the territory and to explain the sports, politics,
navigation and everyday life (but not only…) in antiquity. The project also envisages the
possibility to do archaeological tours to rediscover the ancient urban development of the
region cities.
Available tours:
_Bologna centre: churches of Santo Stefano (so called 7 churches), basilica of S.Petronio,
cathedral of San Pietro, church of S.Domenico, Piazza Maggiore, Church of S.Maria della
Vita, Archiginnasio, Sala Borsa…. Programs suitable for all.
_Bologna and the hills: parrish churches and castles around Bologna
_The Roman Museum of Ozzano Emilia: the roman city of Claterna between Aemilia and
Etruria
_Castel S.Pietro: a Roman city with thermes;
_Sasso Marconi: the village and Guglielmo Marconi
_From Etruscan to Mussolini: the ruins of etruscan Misa, The Archaeological National
Museum Pompeo Aria of Marzabotto, the historical park of Monte Bibele, Monte delle
Formiche.
THE WEDDINGS
Poggiolo is pleased to accommodate you in the most beautiful day of your life.
In the green and unspoilt Zena Valley, in a context that combines ancient and modern, the
Poggiolo offers an extensive internal room with air-conditioning for a maximum of 95
people, a smaller room for 25 and a suggestive external Pergola for more than one hundred
guests. Enchanting panoramic view of the nature that surrounds the organic farm and the
crops. We are at your disposition with the equipment choice and customization. Five
rooms with separate entrances, private bath and all amenities are available. For a more
comprehensive service, we suggest contacts for floral finishes and music.
Our cuisine proposes dishes of the Bologna tradition through the seasons. Our farm
provides cereal, fruit, vegetables, grapes and wine. From our mill we have wheat and spelt,
that we use for bread and other bakery products, homemade pasta, sweets and cakes. This
is to ensure the highest quality and freshness. Our vineyards we produce three red wines
and two white wines with great scent and on persistence. The valdobbiadine bubbles
complete the ceremony. Particular attention for menu without gluten and vegetarian
menù. And we always guarantee the bis!